Bouviers Available for Adoption
Thank you for your interest in adopting a Bouvier des Flandres. The Bouviers we offer for adoption have been screened by those knowledgeable in the breed and we feel they are very desirable dogs. We hope to provide them with excellent homes. For each Bouvier adopted, we ask payment for actual expenses incurred or a minimum of $300.00. To be considered as an adopter, please fill out an application.

Quinn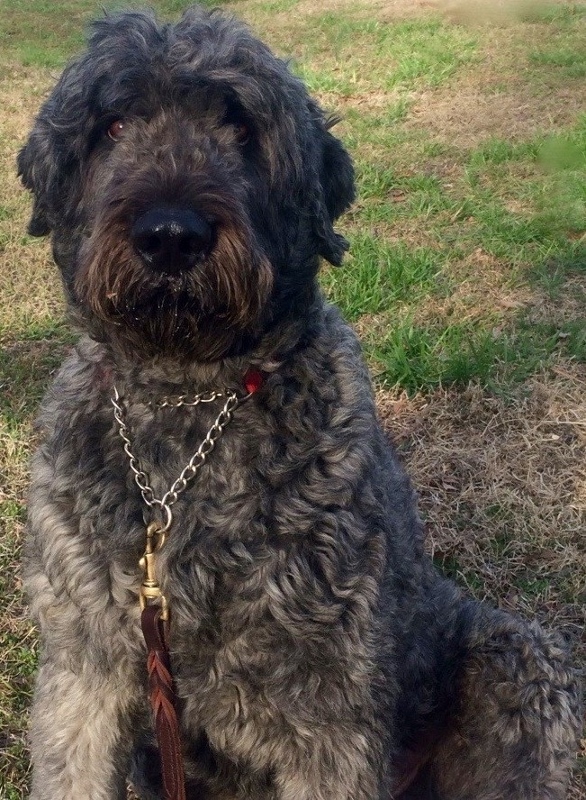 North Carolina
Male
2 years
No
Yes
Quinn is a gorgeous two year old, neutered, docked and natural eared, registered, Bouvier des Flandres. Surrendered from a one-dog, one owner home, Quinn needs to have an active Bouvier des Flandres-knowledgeable home with a secure fenced yard. He has been in his coordinator's home for three weeks and an update on his status needs to be done. Quinn is loving, sweet, smart, and undeniably handsome. He is very large, well over standard for a male and very sturdy. He is athletic and can jump pretty high fences with a bound or a Bouvier bounce so he needs a fence that is five and a half to six feet in height. A very smart cookie, Quinn is good at opening doors and latches so his yard will also need to be able to be locked. He plays very nicely with the female Bouvier in his current foster situation and gets along well at mealtimes and riding with her in the same vehicle for outings, excursions and adventures. Quinn needs adventures and walks; exercise helps him a great deal so he will need an active lifestyle. He walks well on a leash and cannot be in a home with cats or very small dogs. Quinn is good with older children but he may have been admonished for playing roughly with young children, since he is a youngster himself and we know he was surrendered for knocking down grandchildren who were playing in his fenced yard, so no very young children would be best. Quinn will be devoted to his person, judiciously somewhat protective, and would do well with obedience training and other structured activities as he has demonstrated he is exceptionally intelligent and goal-oriented. Quinn is a delight to live with, but he does have Severe Separation Anxiety. He is improving, but helping him through this is a long process. Quinn will need a home where a person will be dedicated to working through this issue with him and will be at home to be able to achieve success. There have been no accidents at all in his foster home and Quinn sleeps well on his dog bed without issue. For more information, contact Deborah.

Cadia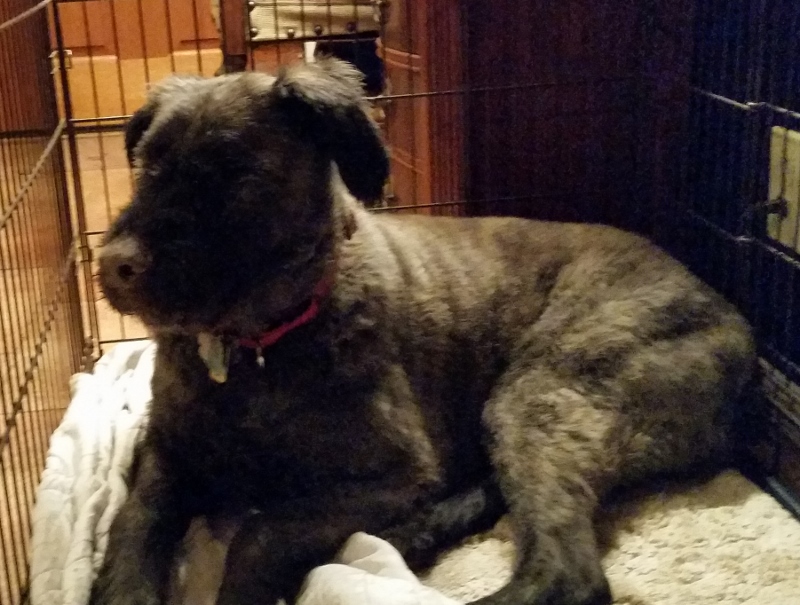 San Antonio, TX
Female
6 years
No
Yes
Here is sweet Arcadia, we call her Miss Cadia. She is a 6 year old, 70 lb. pure bred Bouvier girl who happens to be blind. She has natural ears, a docked tail, is spayed and AKC registered. This amazing girl has been through a rough couple of years, losing her eyesight and then having a (human) baby introduced into her home, which really frightened her. She has been at her foster home just a few short days, but already understands the layout of the house and is very attuned to her foster mom. Cadia learned very quickly to pay attention when we whistled and when we said "careful." She knew after one hour where her bed and the water was, so it appears she has adapted to her vision loss quite handily. She is crate trained and house broken, and will quietly wait for your return from errands or your job. She settles in a car very well, is a good Co- pilot, and loves exploring the yard. I attached a small jingle bell to my sneakers, and now she follows me through the yard without a leash and comes running in my direction when called. Smart as a whip, she is! And such a cuddle bug. Cadie learned all about the martingale collar real quick and walks nicely on a leash now. She understands cues, and really wants to please. Arcadia will make the right person an amazing companion. Here is her medical history: In Spring 2015, Acadia was diagnosed with Lyme Disease. She underwent a month of antibiotics. There did not seem to be any other health issues along with that. During the summer of 2015 Acadia developed severe quick onset glaucoma in one eye, which caused blindness. She saw a veterinary ophthalmologist who recommended that her eye be removed for health and comfort reasons. She had her eye removed and a biopsy performed. The results did not indicate that it was a genetic issue; it is possible that the glaucoma is the result of the Lyme Disease. In Winter 2015, Acadia developed severe glaucoma in her second eye, causing her to lose all sight. Her second eye was removed in March 2016. Cadia has overcome so much, but remains Bouvier strong. Having had to share her former life with another female dog, she is not sure about dogs that are in her face. But does well with other *well- minded, respectful* dogs that understand when told to give her space. Nonetheless, she would be best suited as an only pampered pooch. She will shine for you, once she starts trusting, which does not take long. I am just her foster and might sound biased, but she is a true gem! Aloof of strangers at first, give her the proper introduction, and she will be a love bug with anyone coming in your house! There is not an ounce of aggression in her, Cadia she just wants to fit in! To be considered as an adopter, please fill out an application online. For more information, contact Dagi.

Cosette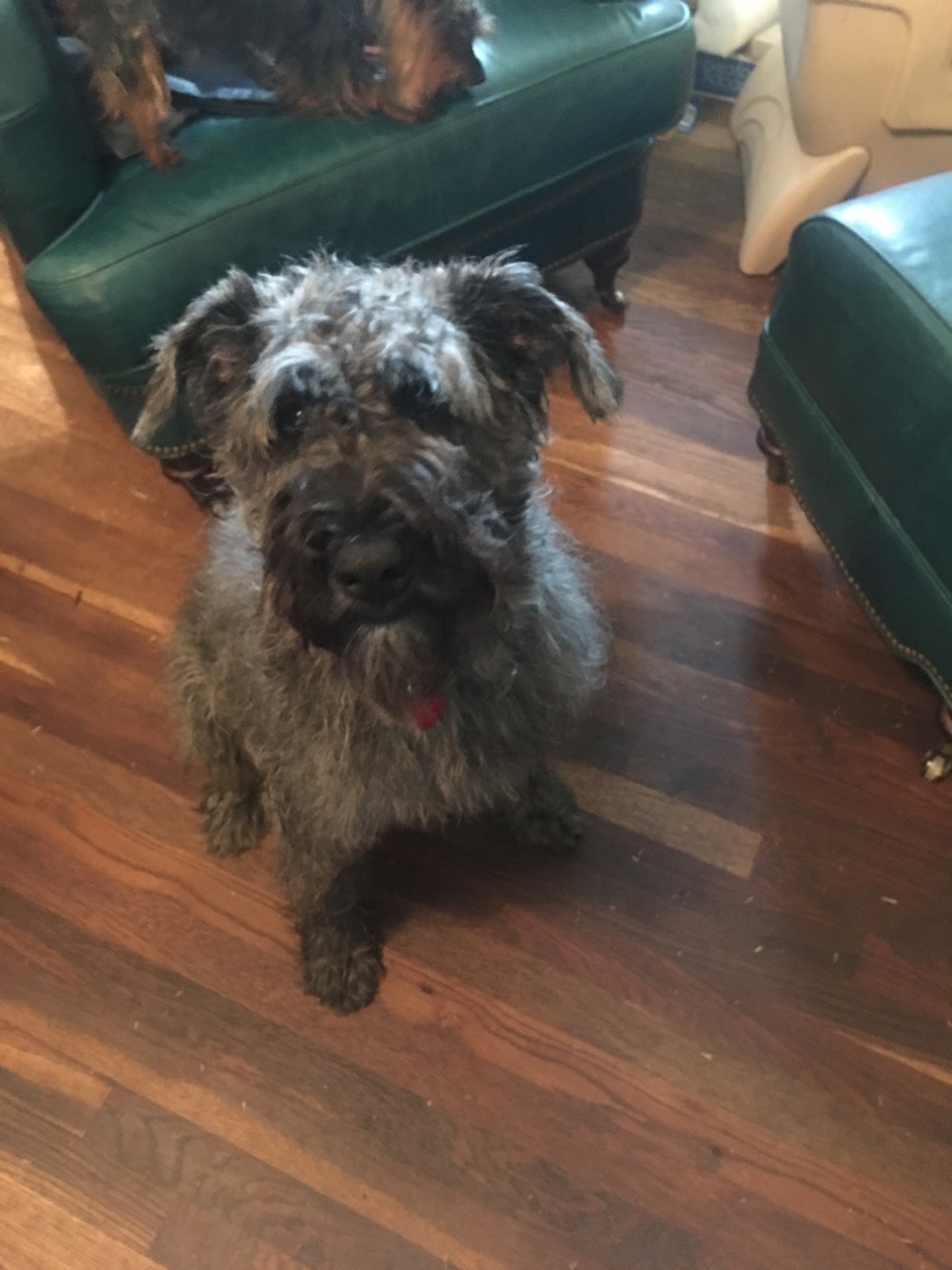 Amarillo, TX
Female
3.5 years
No
Yes
Despite Cosette's initial incarceration at a puppy mill she has evolved into a precious, affectionate, impish little girl. I call her my "Velcro girl" because she follows me everywhere and lays at my feet with her head or paw on my foot. I am amazed at how social she is for being a mill puppy! Her smoking grey coat with her black masque gives her a distinctive presence. She loves having her ears rubbed and her back scratched. She gets along well with the other dogs in the house, dying to play with them, but they are just too old to find her antics amusing! Cosette should go to a home without active children; she also seems to prefer women. She was never housebroken but we are working on that! Miss Cosette does not like to go out into the backyard unless I have her on lead. When I remove the lead she will take care of business and will race and bounce Bouvier style around the yard. I have her on a timed regimen to go because at this point she has not yet learned to let me know. However, she has not soiled her crate when I have left her there overnight, nor when I have left the house to run errands during the day. She has done some submissive wetting when I have put on her lead to take out to the back yard. She can also be a little unsure crossing the tile floor in my kitchen, which is between the living room and the back door. She possesses a strong prey drive directed at squirrels and cats. Loud noises and slamming doors frighten her. Cosette is a sweet girl, who makes every effort to please despite what she has had to endure in her young life. Cosette has her natural ears and a docked tail. She has been estimated to be 3 1/2 years old, but seems younger. She is just under standard in height and weighs less than 60lbs. She has a voracious appetite and has been making up for lost time! She is up to date on shots, spayed and Heartworm negative. She is being fostered in Amarillo,TX. To be considered as an adopter, please fill out an application online. For more information, contact Dagi.