Bouviers Available for Adoption
Thank you for your interest in adopting a Bouvier des Flandres. The Bouviers we offer for adoption have been screened by those knowledgeable in the breed and we feel they are very desirable dogs. We hope to provide them with excellent homes. For each Bouvier adopted, we ask payment for actual expenses incurred or a minimum of $300.00. To be considered as an adopter, please fill out an application.

Cosette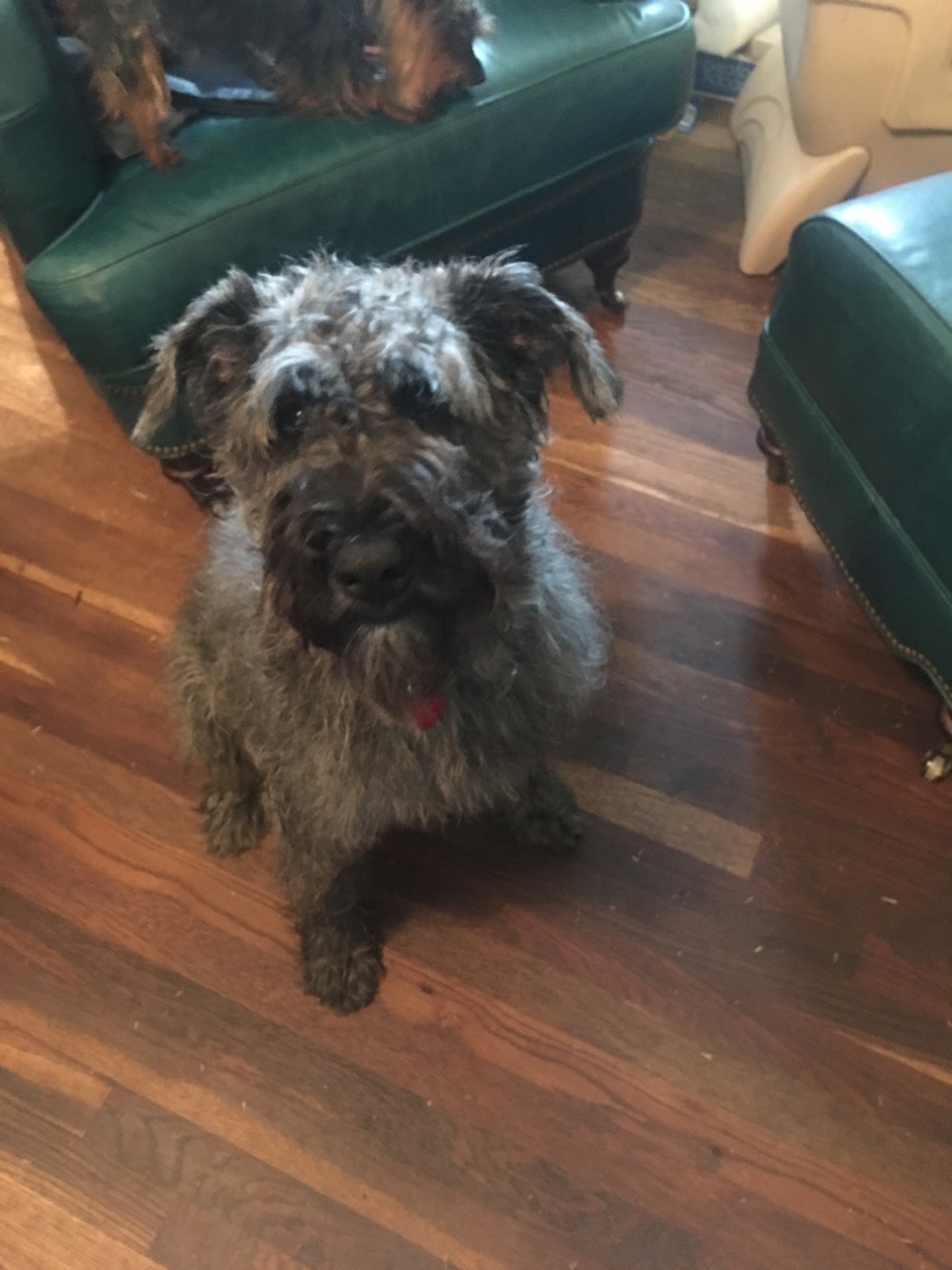 Update April: Cosette has made great strides since October. Being a Mill dog she had numerous hurdles to cross, with Housebreaking being at the top of the list. There was also some general suspicion of new people. Regarding the housebreaking the majority of the time she now lets you know when to let her out. If there are lots of distractions she will need to be led to the door on a lead to go outside. She became comfortable and secure in our home. As her confidence has grown she has been able share her attention with other dogs in the family. She loves being patted, brushed, and in general, touched. It takes her a bit to warm up to new people, especially males, but once she realizes she won't be hurt she is fine. Cozette loves walks, chasing squirrels, killing her squeaker toys, going for rides in the car and just being with "her people.". Despite Cosette's initial incarceration at a puppy mill she has evolved into a precious, affectionate, impish little girl. I call her my "Velcro girl" because she follows me everywhere and lays at my feet with her head or paw on my foot. I am amazed at how social she is for being a mill puppy! Her smoking grey coat with her black masque gives her a distinctive presence. She loves having her ears rubbed and her back scratched. She gets along well with the other dogs in the house, dying to play with them, but they are just too old to find her antics amusing! Cosette should go to a home without active children; she also seems to prefer women. She was never housebroken but we are working on that! Miss Cosette does not like to go out into the backyard unless I have her on lead. When I remove the lead she will take care of business and will race and bounce Bouvier style around the yard. I have her on a timed regimen to go because at this point she has not yet learned to let me know. However, she has not soiled her crate when I have left her there overnight, nor when I have left the house to run errands during the day. She has done some submissive wetting when I have put on her lead to take out to the back yard. She can also be a little unsure crossing the tile floor in my kitchen, which is between the living room and the back door. She possesses a strong prey drive directed at squirrels and cats. Loud noises and slamming doors frighten her. Cosette is a sweet girl, who makes every effort to please despite what she has had to endure in her young life. Cosette has her natural ears and a docked tail. She has been estimated to be 3 1/2 years old, but seems younger. She is just under standard in height and weighs less than 60lbs. She has a voracious appetite and has been making up for lost time! She is up to date on shots, spayed and Heartworm negative. She is being fostered in Amarillo,TX. To be considered as an adopter, please fill out an application online. For more information, contact Dagi.
Chloe (adoption pending)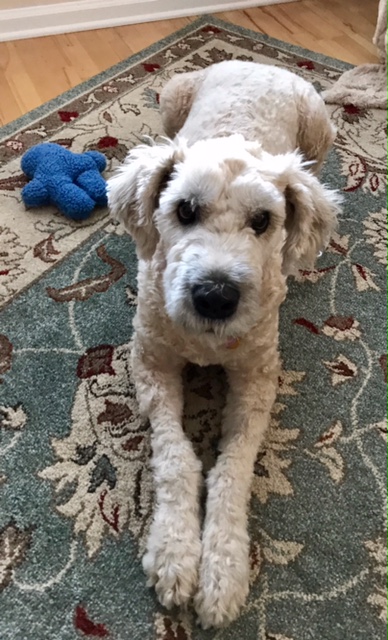 ADOPTION PENDING. I'm Chloe, an 8 year old female Bouvier whose life has changed dramatically in the past few months. First, I moved from a home with a backyard where I loved to run and play, to a third floor condo. Then, my human Dad, whom I was devoted to, became ill and no longer lives at home with us. All these changes have made my life a bit stressful, which leads me to my own issues. I have seizures that were infrequent when I lived up north. Since moving south I have had them more often. The vet says it is because of the stress I am under. These seizures were successfully managed with medicine before, and I am hoping that if I can find a more suitable living situation, they will be so again. I love people and easily tolerate kids over 5 years old (younger children make me nervous... what do you do when they cry and fuss?!). I get along with other dogs, but I have never met a cat and don't know if I'd prefer to chase or cuddle them. I am spayed and up to date on all my vet care. If you have a home and heart big enough for me and my baggage, please fill out an application on line. After completing an application, you may contact Marcia with your questions.

Buddy (adoption pending)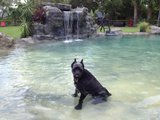 ADOPTION PENDING. Hi! My name is Buddy and I am a very handsome senior Bouvier! I am 10 years old and a gentle big guy at 90 pounds and love people and other dogs! I haven't been around cats but did have a run-in with a raccoon that bit me, on our next encounter I was victorious! I am a dapper black brindle and am cropped and docked! I love being with my family and just hanging out but I do enjoy going for walks! I am currently in the Daytona area, my family has to move into a smaller situation and they do not allow big dogs so I am looking for a home to spend my golden years! I am neutered and current on my vaccines and preventatives! I am just the perfect companion! If you have never had a senior Bouvier to share your home with, you don't know what you are missing! To be considered as an adopter, please fill out an application online. For more information, contact Terry Minda or call her at (561) 793-4017.

Cadia (adoption pending)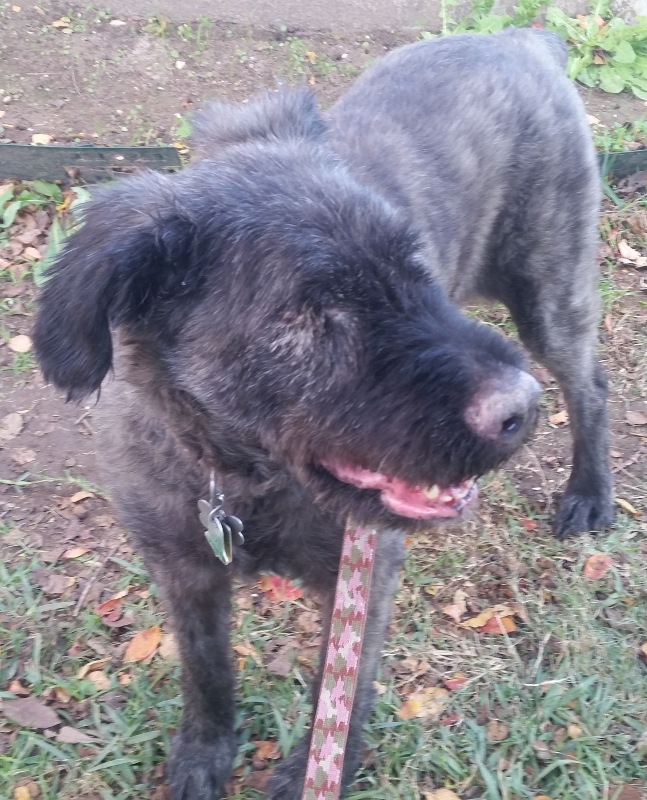 ADOPTION PENDING. Miss Cadia is a 6 year old, 70 pound pure bred Bouvier girl who happens to be blind. She lost her eyes due to painful glaucoma, but is pain free and just as opinionated, sassy and devoted as any Bouvier girl. Cadia has natural ears, a docked tail, and has been spayed. This amazing girl has been through a rough couple of years, losing her eyesight and then having a (human) baby introduced into her home, which really frightened her when the baby started crawling! Thus she was in need of re-homing. This girl is very attuned to " her" humans, and loves to plop down near you while you cooking, working or just watching TV. She adapts quickly to new surroundings, is crate trained and house broken, and will quietly wait for your return from errands or your job. This girl loves car rides and is a great co-pilot! Did we say she loves exploring the yard? Miss Cadia is smart as a whip, is vocal, lets you know what she wants or needs and is just waiting to find her fur-ever home! And she really wants to please. Arcadia will make the right person an amazing companion. Cadia has overcome so much, but remains Bouvier strong. Her former owner got a young border Collie pup to keep her company, but can you imagine how it must feel when you lose your eye sight and then have an enthusiastic puppy in your face all day? So, Missy did not like that at all, but we know now that she is not dog aggressive, just leery, anticipating another dumb youngster with no manners. But she does well with other *well- minded, respectful* dogs that understand when told to give her space. Nonetheless, she would be best suited as an only pampered pooch. She will shine for you, once she starts trusting, which does not take long. I am just her foster and might sound biased, but she is a true gem! Aloof of strangers at first, give her the proper introduction, and she will be a love bug with anyone coming in your house! There is not an ounce of aggression in her, Cadia she just wants to fit in! Cadia has a high prey drive when it comes to cats, so a home without cats is required. To be considered as an adopter, please fill out an application online. For more information, contact Dagi.

Hannah Boo (adoption pending)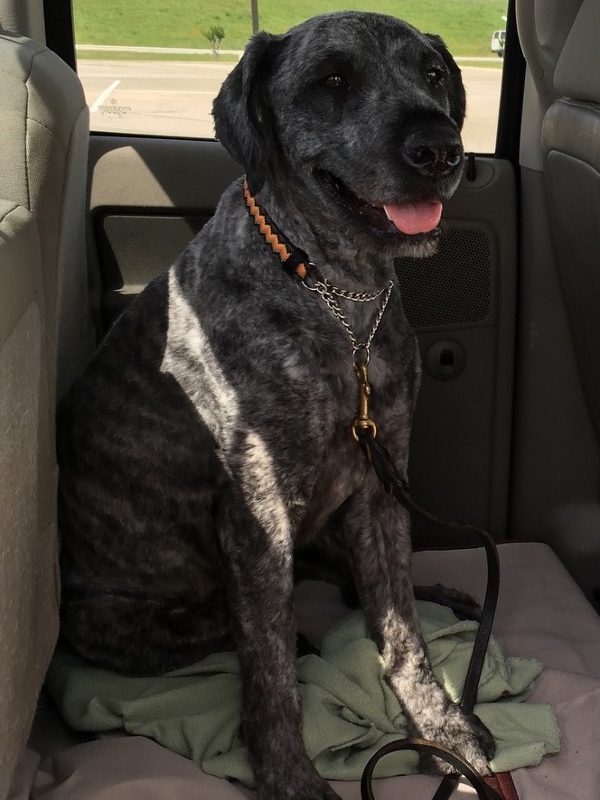 ADOPTION PENDING. Hannah Boo is a spayed, female Bouvier, estimated to be 18 -24 month old. She is up to date on vetting and heartworm negative. In late 2016,, she was found wandering the highway, dehydrated and wearing an embedded collar. Hannah is now in foster care with ABRL. She is extremely skinny, weighing 58 lbs., with a target weight of about 70 lbs. We have already managed to put a few pounds on her. She has been shaved due to extreme matting. She is extremely smart and learned within a few days how to sit and walk nicely on a leash. She took to the crate quickly and now runs right in it for breakfast and dinner. She is housebroken and crate trained. Hannah loves all people, great and small, even though she is timid and a bit shy at first, she is pining for some love and affection... all she wants is to please. She will make the right person the perfect dog and family member. Everybody that has met her has fallen for her sweet personality and soulful eyes. She has a high prey drive, so cats in her home are a total no-no! Hannah will get fixated and will go into a trance, with nothing on her mind but that cat! So NO cats for this l'il lady! Smart and agile as she is, she would succeed at agility and obedience! Hannah Boo is being fostered in San Antonio TX, and anyone interested and approved would need to drive to San Antonio for a meet and greet with her. To be considered as an adopter, please fill out an application online. For more information, contact Dagi.