Bouviers Available for Adoption
Thank you for your interest in adopting a Bouvier des Flandres. The Bouviers we offer for adoption have been screened by those knowledgeable in the breed and we feel they are very desirable dogs. We hope to provide them with excellent homes. For each Bouvier adopted, we ask payment for actual expenses incurred or a minimum of $300.00. To be considered as an adopter, please fill out an application.
Macy (adoption pending)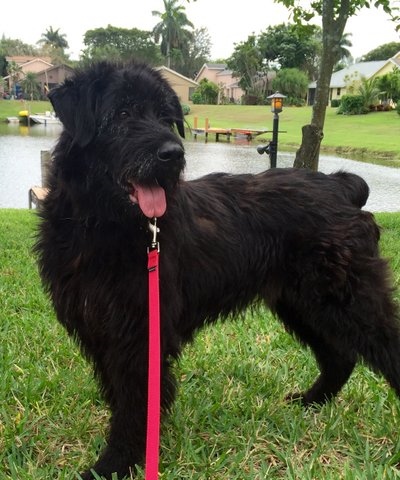 Delray Beach, FL
Female
3 years
Natural
Docked
ADOPTION PENDING. Hi my name is Macy and I am a beautiful black "mostly" Bouvier girl. I am around 3 years old, weigh 73 pounds, and have natural ears, a docked tail and a coarse coat! I was in a house with several other dogs and was confiscated by the Humane Society of the US from a "hoarders" home. From there I was taken to a shelter where I just "shut down." At first I was better with the other dogs than people but after a while I got to like some of the people that were trying to help me! I was at the shelter for six weeks (it has taken me that long to gain confidence to find a new home) and I got very good reports on how much I have improved but I have a long way to go. I never had any socialization with humans, so I am looking for a quiet home with maybe another laid-back canine companion; too much stimulus is overwhelming to me, so I will need a lot of patience and love and someone who will let this wall-flower blossom into a beautiful flower! For your kindness you will win my love and devotion! I can use some work walking on a leash but since in my foster home have vastly improved! I am spayed and up to date on vaccinations. I am being fostered in Delray Beach Florida. See a short video of me at https://youtu.be/lu_FswTQQME. To be considered as an adopter, please fill out an application online. For more information, call Terry Minda at (561) 793-4017 or email her.