Bouviers Available for Adoption
Thank you for your interest in adopting a Bouvier des Flandres. The Bouviers we offer for adoption have been screened by those knowledgeable in the breed and we feel they are very desirable dogs. We hope to provide them with excellent homes. For each Bouvier adopted, we ask payment for actual expenses incurred or a minimum of $300.00. To be considered as an adopter, please fill out an application.
Bear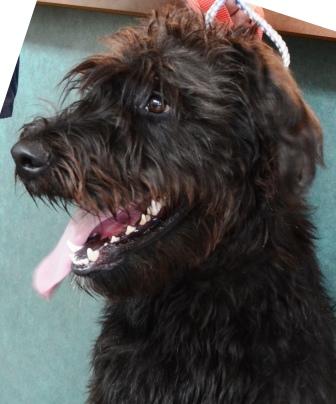 San Antonio, TX
Male
4 years
No
No
Handsome Bear is a 4 year old neutered pure bred male Bouvier with natural ears and tail. He is heartworm negative, and up to date on vetting. Bear comes from strong working lines and requires an experienced handler. To be considered as an adopter, please fill out an application on line. For information contact Dagi or call 210-269-4463.

Lizzy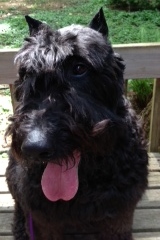 Boring, OR
Female
7 years
Yes
Yes
Lizzy is an affectionate, intelligent Bouvier looking for companionship and a forever home after being surrendered to rescue when her owner passed away. This seven year old beauty has cropped ears and a docked tail, and loves to be the center of attention! Weighing 70 lbs., Lizzy is crate trained, knows basic obedience and is very willing to please. Lizzy is a quick learner and is food motivated. She is playful, enjoys walks, and loves car rides! But she also loves cuddling and can be content lying by her person's side. She seems to be most comfortable around women, but does well with men who are dog friendly. Although she can be protective around strangers and distrustful at first, she bonds quickly once trust has been established. After traveling a tough road, Lizzy deserves to live comfortably in a home with someone who has time for her, and one in which she is not left home alone for hours at a time. Lizzy has lived in a home with a cat, and although Lizzy is good with other dogs, she would prefer a home without other dogs with whom she has to compete for attention. We recommend a home without children, since Lizzy can be unpredictable around little ones. Lizzy is spayed, and is up to date on her vet care. To be considered as an adopter, please fill out an application on-line. For more information email RuthAnn Lee or call 503-970-0186.

Shadow (ADOPTION PENDING)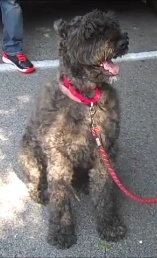 Buford, GA
Female
3.5 years
Yes
Yes
ADOPTION PENDING. Foster or adoptive home needed. Shadow is a 3.5 year old female Bouvier with cropped ears and a docked tail who is currently located north of Atlanta. Sadly, she is the victim of a divorce, and was relinquished to rescue when neither individual in the couple could keep her. Having lived in a novice Bouvier home with two children, Shadow received very little daily attention, exercise and training. As a result, she took it upon herself to take on the job of protector of her home to the point that her family was concerned that she was being too protective of them. In actuality, Shadow appears to have very little confidence. Shadow will need a Bouvier experienced home willing to do some positive training and basic behavior work with her to help her gain some confidence and understand that she does not need to be the guardian, as she will most likely bond very strongly to her new people. This pretty girl travels nicely in the car, is crate trained, understands a few basic cues and is typically calm and well-behaved in the house. She cannot be placed in a home with small dogs or cats and most likely would do best as the only dog in her home. A home with children may be considered for a Bouvier savvy applicant willing to be sure that she is not given the opportunity to revert to her "protector" role. She is spayed, heartworm negative, and up to date on vetting. To view a short video of Shadow, go to this link. If you are interested in being considered as an adopter, please complete an application on line. For more information please contact Marcia Proud.