Bouviers Available for Adoption
Thank you for your interest in adopting a Bouvier des Flandres. The Bouviers we offer for adoption have been screened by those knowledgeable in the breed and we feel they are very desirable dogs. We hope to provide them with excellent homes. For each Bouvier adopted, we ask payment for actual expenses incurred or a minimum of $300.00. To be considered as an adopter, please fill out an application.

Teddy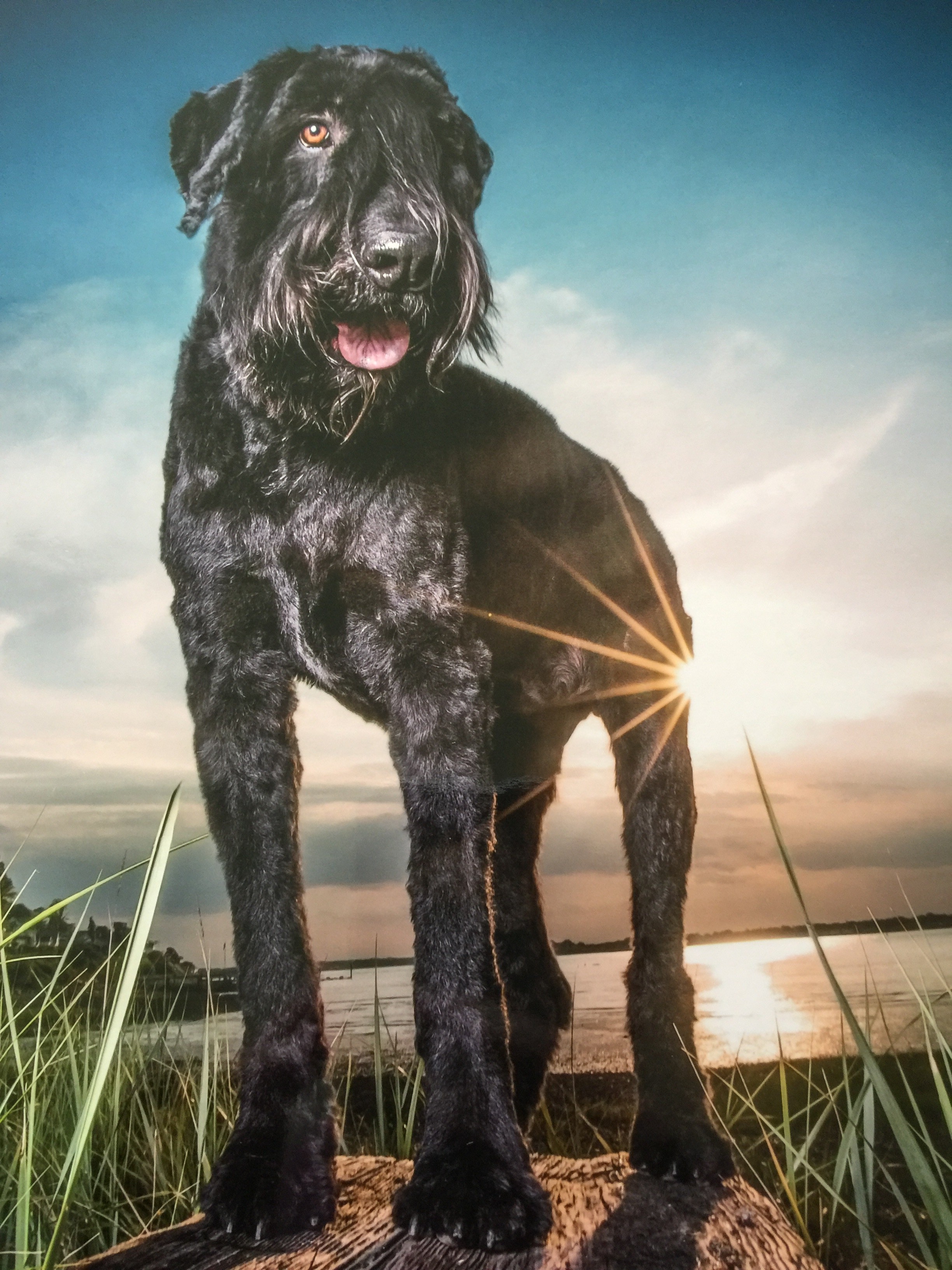 Teddy is a neutered, black bouvier, around 120 pounds. He turns seven on October 6. Teddy arrived into his people's home when he was twelve weeks old. He is a big soft fluffy love who has been described as having "eyes that can read souls." He is pure love. Teddy is the biggest dog, but has no idea. He is not the alpha and can be pushed around very easily. He loves peanut butter, rides, and walks. He also loves bikes and needs to be walked in areas without bikes. He is kind and gentle and just wants to be part of the pack. He is anxious but gets excited quickly and frequently makes us laugh with his "bouvier bounce." He is not a chewer or a jumper. He does get nervous about going down stairs and although he can do it and does it every day, needs support and encouragement. He would do well in a single dog home or with one other dog who is alpha. He cannot be around cats at all. He will melt your heart immediately and deserves only the best! To be considered as an adopter, please fill out an application on line. After completing an application, contact Sandy with your questions.

Lily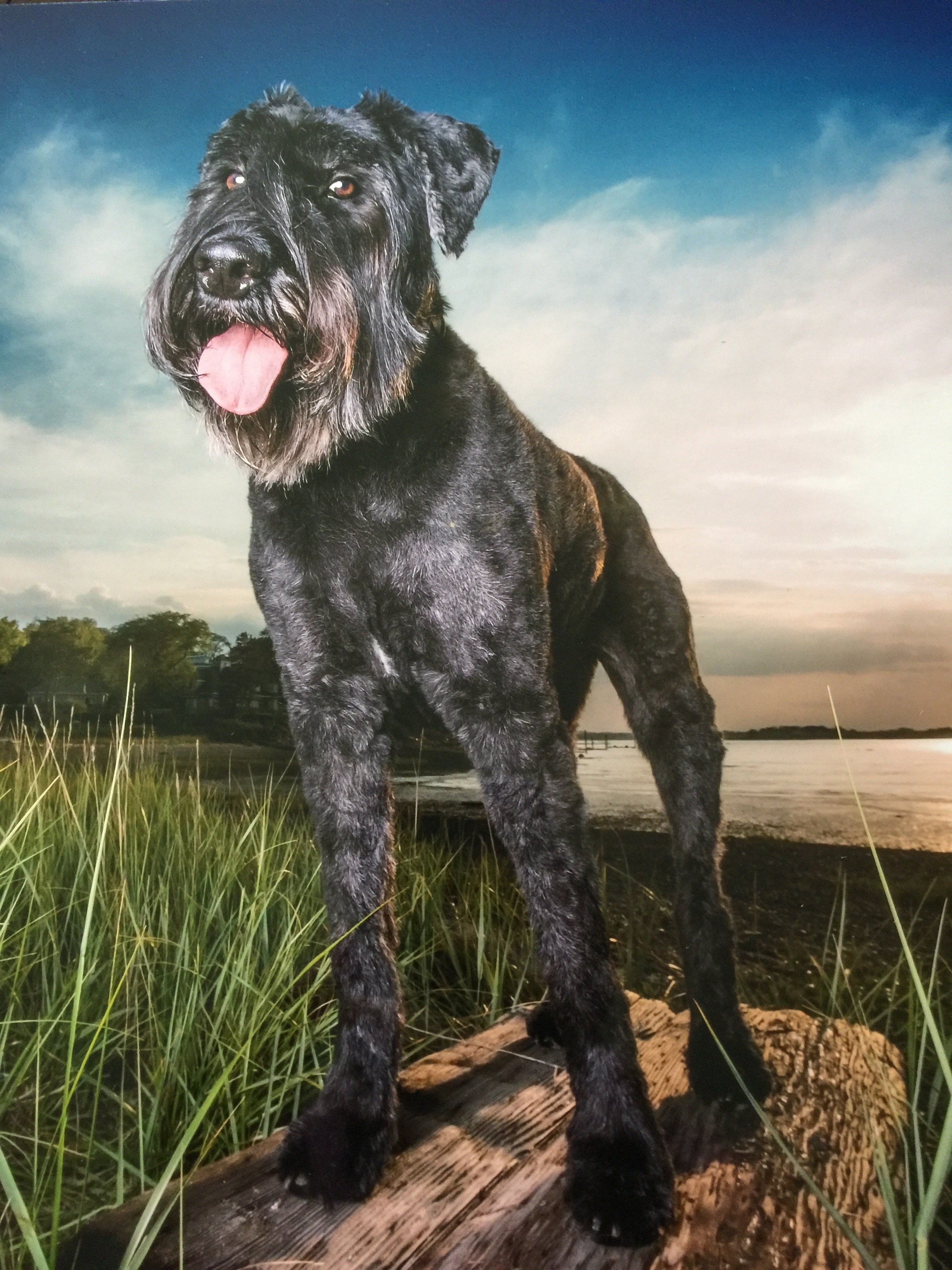 Lily is a spayed, black bouvier, around ninety pounds. She turns seven on October 6. Lily came into her people's home when she was ten weeks old and stole their hearts immediately. They say she is by far the smartest dog they have ever known. She only had one accident in the house before becoming completely house trained. Lily loves to cuddle and be close to her people. She makes eye contact that will win you over in an instant. Lily loves to sleep, usually on her back with her four paws up in the air, but the one thing she loves more than sleeping is a long walk or hike. In areas without people, they can take her off leash. She does not run away and stays close by if you ask her to "stay local." Lily does have a very deep and scary bark which can startle people, but it is more of her way of telling them that she knows they are there. Once she knows you are ok with them and has smelled them she won't leave their side. She is not a chewer nor a jumper. She would do better in a single dog home. She tolerates her brothers but would prefer if she had the place to herself. She cannot be around cats at all. She is a little bit of a princess and has been my faithful friend and companion. She is a pure delight! To be considered as an adopter, please fill out an application on line. After completing an application, contact Sandy with your questions.

Dusty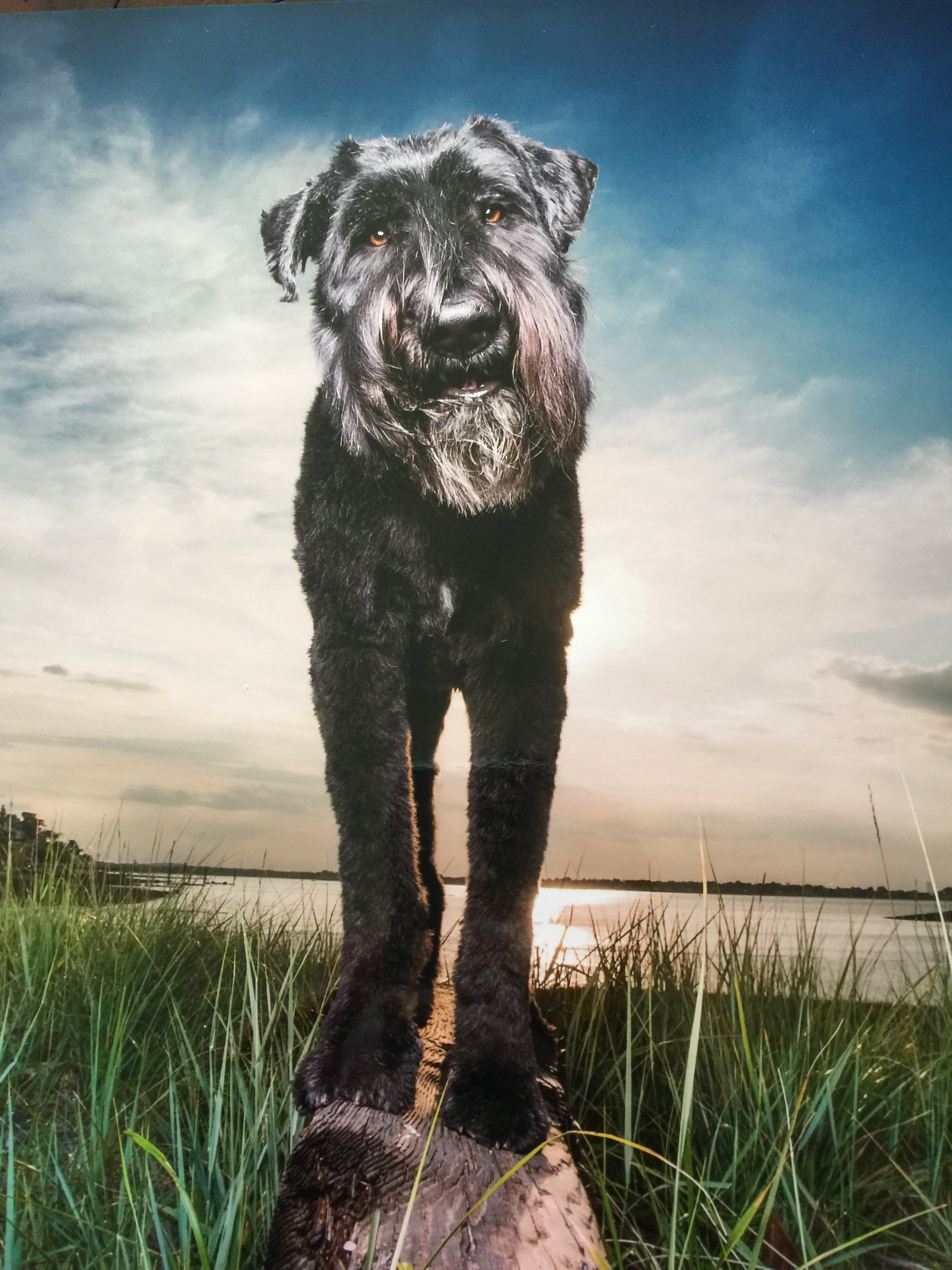 Dusty will bond with you and become your best friend. He is a six year old, neutured, black bouvier around 104 pounds. He will turn seven in January. He arrived in his people's home when he was a ten week old puppy. Dusty loves to have a job and be doing something. He will frequently assign himself a job. He walks/ runs around the perimeter of our yard doing his daily "perimeter checks." He will pick a person and follow them everywhere, either in the house or outside. Several times he has walked directly behind us while we mow the entire lawn. He loves walks, rides, attention, and basically just being next to you. He has a strong personality and is much more obedient to an alpha person (like his human dad) rather than a softie (like his human mom). He knows the rules but will check you out to see if you will enforce them. If you do, he will respect you immediately. He does jump on some people. He does not chew. He stays very busy and loves having "a person." He would do best in a single dog house. He cannot be with cats. Dusty is absolutely wonderful on the leash and in public. He is a true companion. To be considered as an adopter, please fill out an application on line. After completing an application, contact Sandy with your questions.

Chloe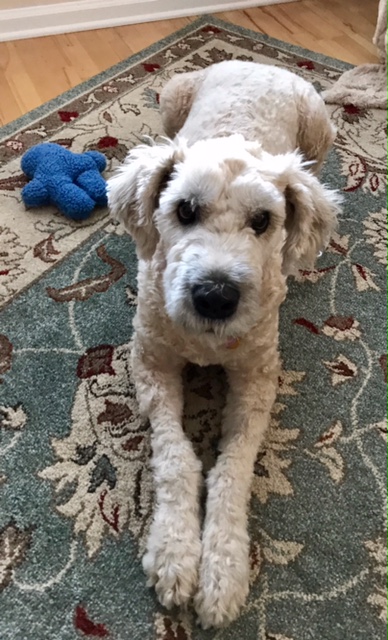 I'm Chloe, an 8 year old female Bouvier whose life has changed dramatically in the past few months. First, I moved from a home with a backyard where I loved to run and play, to a third floor condo. Then, my human Dad, whom I was devoted to, became ill and no longer lives at home with us. All these changes have made my life a bit stressful, which leads me to my own issues. I have seizures that were infrequent when I lived up north. Since moving south I have had them more often. The vet says it is because of the stress I am under. These seizures were successfully managed with medicine before, and I am hoping that if I can find a more suitable living situation, they will be so again. I love people and easily tolerate kids over 5 years old (younger children make me nervous... what do you do when they cry and fuss?!). I get along with other dogs, but I have never met a cat and don't know if I'd prefer to chase or cuddle them. I am spayed and up to date on all my vet care. If you have a home and heart big enough for me and my baggage, please fill out an application on line. After completing an application, you may contact Marcia with your questions.

Cosette (adoption pending)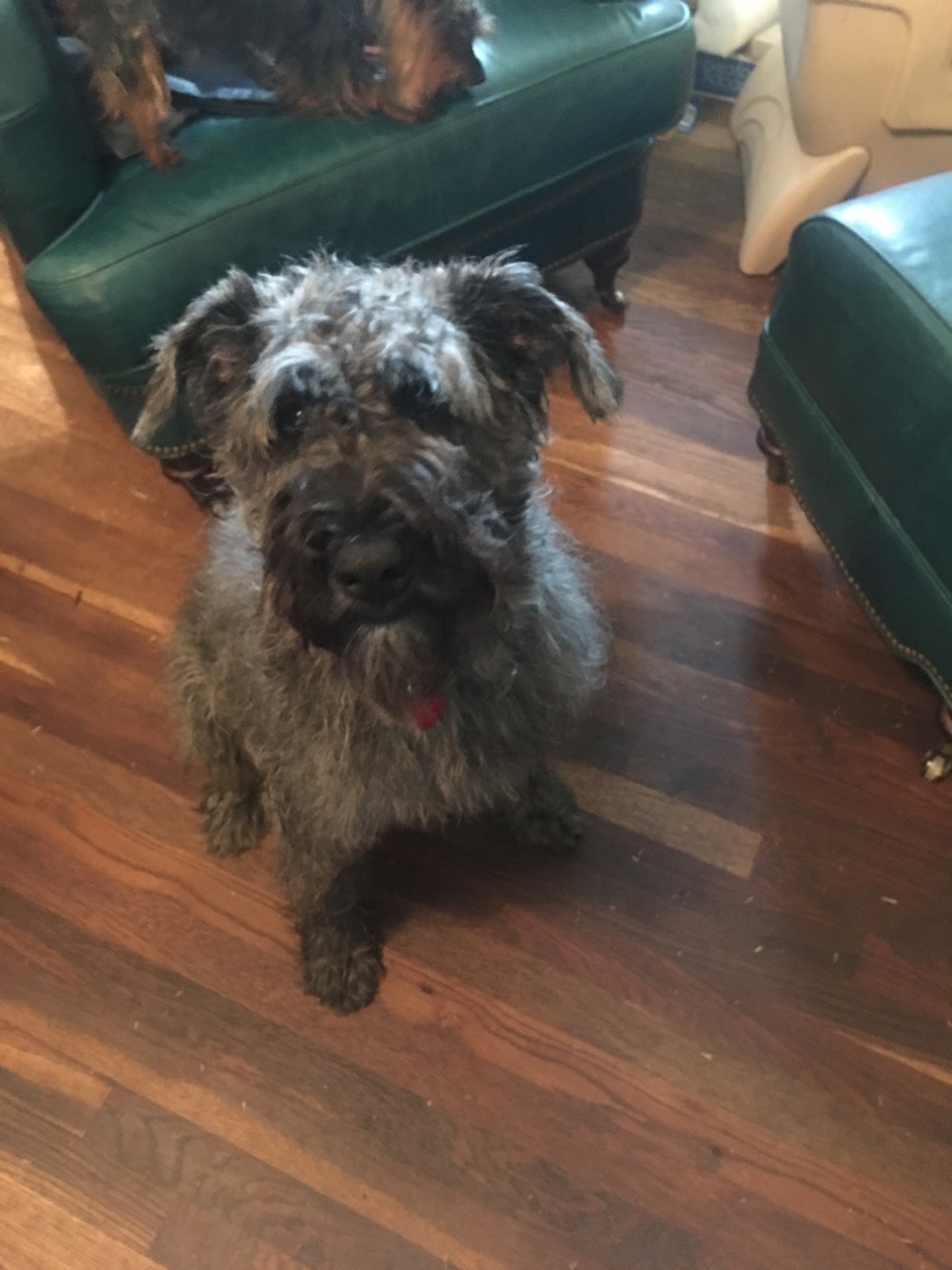 ADOPTION PENDING. Update April: Cosette has made great strides since October. Being a Mill dog she had numerous hurdles to cross, with Housebreaking being at the top of the list. There was also some general suspicion of new people. Regarding the housebreaking the majority of the time she now lets you know when to let her out. If there are lots of distractions she will need to be led to the door on a lead to go outside. She became comfortable and secure in our home. As her confidence has grown she has been able share her attention with other dogs in the family. She loves being patted, brushed, and in general, touched. It takes her a bit to warm up to new people, especially males, but once she realizes she won't be hurt she is fine. Cozette loves walks, chasing squirrels, killing her squeaker toys, going for rides in the car and just being with "her people.". Despite Cosette's initial incarceration at a puppy mill she has evolved into a precious, affectionate, impish little girl. I call her my "Velcro girl" because she follows me everywhere and lays at my feet with her head or paw on my foot. I am amazed at how social she is for being a mill puppy! Her smoking grey coat with her black masque gives her a distinctive presence. She loves having her ears rubbed and her back scratched. She gets along well with the other dogs in the house, dying to play with them, but they are just too old to find her antics amusing! Cosette should go to a home without active children; she also seems to prefer women. She was never housebroken but we are working on that! Miss Cosette does not like to go out into the backyard unless I have her on lead. When I remove the lead she will take care of business and will race and bounce Bouvier style around the yard. I have her on a timed regimen to go because at this point she has not yet learned to let me know. However, she has not soiled her crate when I have left her there overnight, nor when I have left the house to run errands during the day. She has done some submissive wetting when I have put on her lead to take out to the back yard. She can also be a little unsure crossing the tile floor in my kitchen, which is between the living room and the back door. She possesses a strong prey drive directed at squirrels and cats. Loud noises and slamming doors frighten her. Cosette is a sweet girl, who makes every effort to please despite what she has had to endure in her young life. Cosette has her natural ears and a docked tail. She has been estimated to be 3 1/2 years old, but seems younger. She is just under standard in height and weighs less than 60lbs. She has a voracious appetite and has been making up for lost time! She is up to date on shots, spayed and Heartworm negative. She is being fostered in Amarillo,TX. To be considered as an adopter, please fill out an application online. For more information, contact Dagi.
Jacqueline (adoption pending)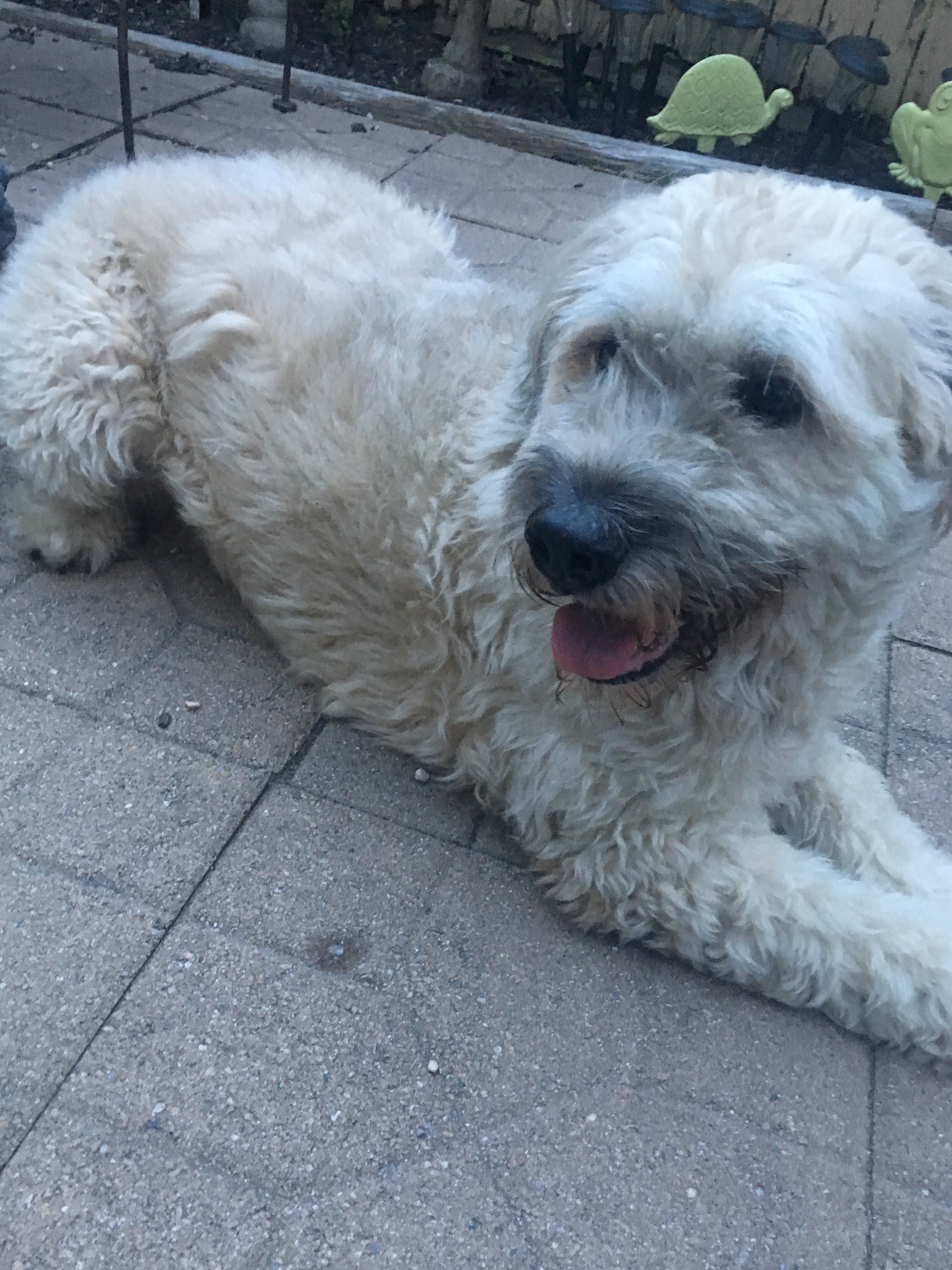 ADOPTION PENDING. Jacquelin is a an natural earred, docked fawn bouvier. She will be 7 this coming November. She is spayed and up to date on vet work. She rarely barks, loves to be active and knows basic commands. Presently Jacquelin lives with another female bouvier and a female poodle. She and the poodle sometimes don't like each other but Jacquelin could live with a male. She does not get on with cats. Her owner is moving into New York from New Jersey and just can't accommodate three dogs. To be considered as an adopter, we ask that you complete our online application BEFORE contacting us as that will give us a point of reference. After completing an application, please contact Susan Strauss with your questions.

Hannah Boo (adoption pending)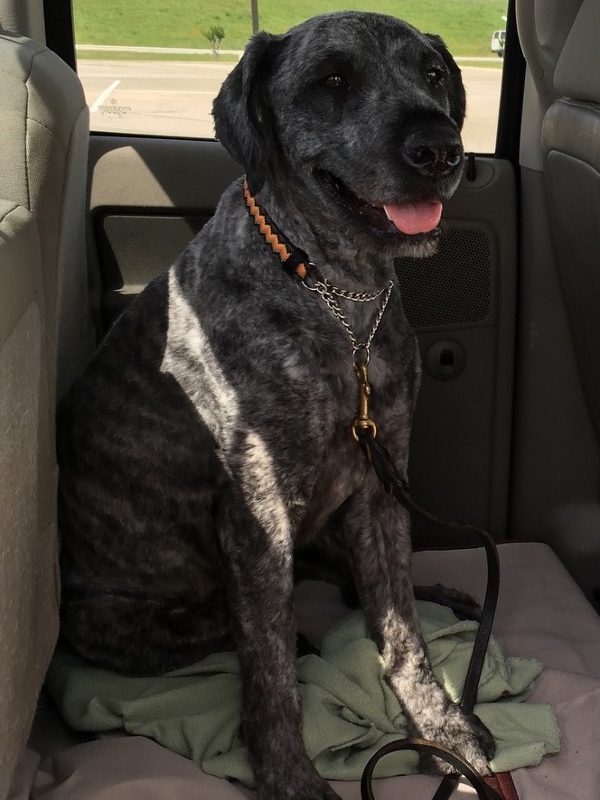 ADOPTION PENDING. Hannah Boo is a spayed, female Bouvier, estimated to be 18 -24 month old. She is up to date on vetting and heartworm negative. In late 2016,, she was found wandering the highway, dehydrated and wearing an embedded collar. Hannah is now in foster care with ABRL. She is extremely skinny, weighing 58 lbs., with a target weight of about 70 lbs. We have already managed to put a few pounds on her. She has been shaved due to extreme matting. She is extremely smart and learned within a few days how to sit and walk nicely on a leash. She took to the crate quickly and now runs right in it for breakfast and dinner. She is housebroken and crate trained. Hannah loves all people, great and small, even though she is timid and a bit shy at first, she is pining for some love and affection... all she wants is to please. She will make the right person the perfect dog and family member. Everybody that has met her has fallen for her sweet personality and soulful eyes. She has a high prey drive, so cats in her home are a total no-no! Hannah will get fixated and will go into a trance, with nothing on her mind but that cat! So NO cats for this l'il lady! Smart and agile as she is, she would succeed at agility and obedience! Hannah Boo is being fostered in San Antonio TX, and anyone interested and approved would need to drive to San Antonio for a meet and greet with her. To be considered as an adopter, please fill out an application online. For more information, contact Dagi.