Bouviers Available for Adoption
Thank you for your interest in adopting a Bouvier des Flandres. The Bouviers we offer for adoption have been screened by those knowledgeable in the breed and we feel they are very desirable dogs. We hope to provide them with excellent homes. For each Bouvier adopted, we ask payment for actual expenses incurred or a minimum of $300.00. To be considered as an adopter, please fill out an application.
Ebony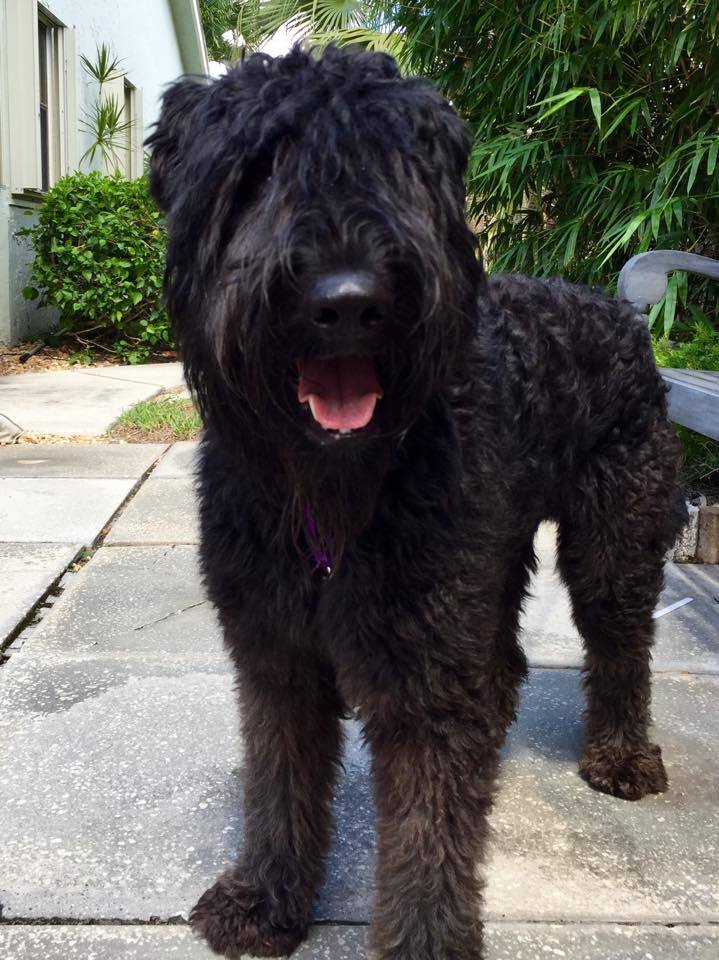 Del Ray Beach, FL
Female
2.5 years
No
No
Hi my name is Ebony-- I am a true little black beauty. I am a svelte 50ish pounds but could stand to gain about six or so more! I found myself in a shelter and I was NOT very happy there so I was not eating properly-- but with a little TLC and good food I will fill out in no time at all! Remember GOOD things come in small packages! I am from working lines and a very athletic busy girl--I love to play ball & other games with my humans! I have had a little obedience, well a tiny bit and have had a little protection work too but I did not take it seriously-- it was just a game for me--everyone laughed because when the decoy took his sleeve off I liked to sit on his lap! Oh that is another thing I am a lap dog and love to give kisses, so if you don't like smooching I am not the girl for you! I am current on all my vaccinations and will be visiting the vet to be spayed before going to my new home! I am in a great foster home in Delray Beach Florida. NOTE: As Ebony has been through a lot in a very short time, only Florida applicants are being considered at this time. To be considered as an adopter, please fill out an application online. For more information, contact Terry or call her at (561)793-4017.

Bentley (adoption pending)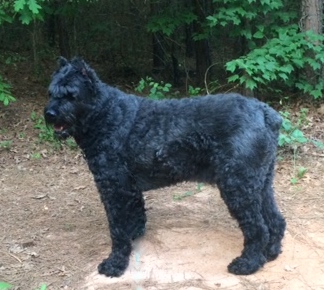 Western North Carolina
Male
8 years
Yes
Yes
ADOPTION PENDING. Bentley is an 8-year-old, cropped and docked, Size Large, glossy black Bouvier, perfectly housebroken. A strong and active Bouv, Bentley lived on a farm as a house dog. When his family unexpectedly and necessarily moved to smaller living arrangements due to a family death, Bentley took exception to the more active setting, especially by wanting to control and herd the children screaming and yelling on the adjacent play area of the living community. He has herding instincts and coupled with his anxiety, he was Bouvier-protective of his home and persons there, so different from the previous calm atmosphere. Therefore, young children should not inhabit his future home. Bentley has lost 25 pounds since coming into Rescue and while he is well mannered, and beloved by his family, he was unsocialized in public. Now Bentley lunches at outdoor restaurants with sophistication. And shops. Once properly introduced, he is friendly to people and has been good, if bossy, with female dogs of all sizes, but dominant with males. No cats. Because of his Bouvier propensity to control most situations, and a high prey drive, Bentley must have a large securely fenced yard. His activity level requires long walks, car rides and stimulation as he is no couch potato, and most people guess him to be much younger than his age at first meeting, even veterinarians. He has never been alone in his life for long periods of time, and he craves companionship and being with his person. Bentley came into rescue with a suspicious bone lesion, or tumor, or bone deficit on a front leg accidentally discovered subsequent to a pony hoof vs. Bentley encounter. For diagnostic purposes, he has had monthly X-rays, oncology assessment, a bone biopsy in which no cancer cells could be found. During six month's time, the area on the bone shows no change. Hence, osteosarcoma and fibrosarcoma have been ruled out due to the lack of progression, and no definitive diagnosis can be made for the reason. Theories range (on the part of several veterinarians) from a puppy fungal disease that left a bone deficit to a recent injury that is healing but frankly, we just don't know the cause. He also had a minute, non-displaced fracture on a toe, (re: pony) but x-rays on June 10th show that to be fully healed. He will need to continue thyroid medication with monitoring of thyroid levels throughout his life. Bentley is a magnificent example of a Bouvier des Flandres. His character, charming personality traits, his loving and loyal disposition and his exceptional handsomeness, all make him the epitome of the breed. He needs to lead a full and active life. Also, Bentley can Bouvier-bounce high and really often: Nobody Bounces Better; Nobody. To be considered as an adopter, please fill out an application online. For more information, contact Deborah.