Bouviers Available for Adoption
Thank you for your interest in adopting a Bouvier des Flandres. The Bouviers we offer for adoption have been screened by those knowledgeable in the breed and we feel they are very desirable dogs. We hope to provide them with excellent homes. For each Bouvier adopted, we ask payment for actual expenses incurred or a minimum of $300.00. To be considered as an adopter, please fill out an application.
Berlin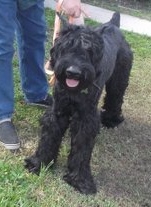 Gainesville, FL
Male
6 years
Yes
Yes
Hi my name is Berlin, and I am a handsome black Bouvier beauty with cropped ears and a docked tail. I am a BIG guy weighing around 90 pounds and am six years old. I was surrendered to animal control because my beloved elderly owner was in the hospital and could no longer care for me! I was lucky enough to make it out of the shelter not only because of the BIG black dog stigma but I am also heartworm positive and had a tumor on my toe, so I was VERY fortunate ABRL saved me! I had to have my toe amputated and the surgery was successful and I am now healthy enough and ready for my heartworm treatment. After I have it I will have to be kept relatively quiet for about a month that will be hard for me because I love to run and play and really enjoy terminating toys! I did great in my first foster home with other dogs of my size but I am currently in a home with just one other male dog, he is much smaller than I am and I am obsessed with dominating him, so it would be best if I was in a home where I am an only child! I am very loving and love to cuddle, I love to be with my person and would love to be with someone who is as active as I am (well once I finish my heartworm treatment)! My foster Mom says that she thinks I would excel at nose work because I am so curious about my environment and have smelled and examined every inch of her home--especially anything in a box! I am neutered and up-to-date with all my shots. To be considered as an adopter, please fill out an application online. For information contact Terry at (561) 793-4017, or via email.