Bouviers Available for Adoption
Thank you for your interest in adopting a Bouvier des Flandres. The Bouviers we offer for adoption have been screened by those knowledgeable in the breed and we feel they are very desirable dogs. We hope to provide them with excellent homes. For each Bouvier adopted, we ask payment for actual expenses incurred or a minimum of $300.00. To be considered as an adopter, please fill out an application.
Berlin (adoption pending)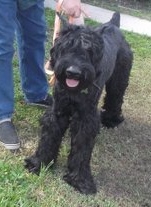 Royal Palm Beach, FL
Male
6 years
Yes
Yes
ADOPTION PENDING. Hi, my name is Berlin and I am a beautiful black brindle Bouvier boy, docked and cropped, and I am a BIG guy weighing 95 pounds! I am six years old and I found myself at animal control because my beloved elderly owner has been in-and-out of the hospital and can no longer care for me. I was lucky that another rescue contacted ABRL to inform them about me because I am heartworm positive and have what was thought by animal control to be an injury to my toe. You know the stigma of black dogs and with these physical issues I may not have made it out of the shelter! The one good thing I had going for me was that the wonderful staff at animal control really liked me and sent out an SOS to rescues of dogs that were scheduled to be euthanized, they said I was a BIG lovable goofball! I charmed everyone I met with my wonderful temperament and perpetually wagging stubby even at the vet's office. When I went for my check-up I gave Dr. Miller lots of smoochies (he hugged and kissed me back)! Dr. Miller was more concerned with my paw; the toe has a tumor so I am going to have it amputated to make sure that if there is something there it can be removed and not spread! Once that is taken care of I will be going through heartworm treatment and then ready for my new home. I just wanted to tell you a little about myself so we can find the perfect home for me when I am all better. I lived on a farm with 30 acres and I had fun running around but I got pretty matted and smelly so I had to be shaved down, but I am sure by the time I am ready to go to my new home I will be all handsome and fuzzy again. I am doing well in my foster home where there are other dogs, lots of birds (I lived with them and other exotic animals in my original home) and tiny little puppies that my foster Dad is fostering for the Humane Society. I am already neutered and up-to date on vaccinations. I am just a lover and very playful and active. When I am ready for my new home I would love someone to play with me and take long walks, and, oh, I just LOVE toys! I am currently being fostered in Royal Palm Beach, FL. If you want to know more about me, you can contact Terry; she will talk your ears off telling you how wonderful I am and send you lots of pictures of me! Once I am finished with my treatments there should be a line of people waiting to adopt me... at least that is what Terry and foster Dad Howard think! To be considered as an adopter, please fill out an application online. For information contact Terry at (561) 793-4017, or via email.

Teddy (adoption pending)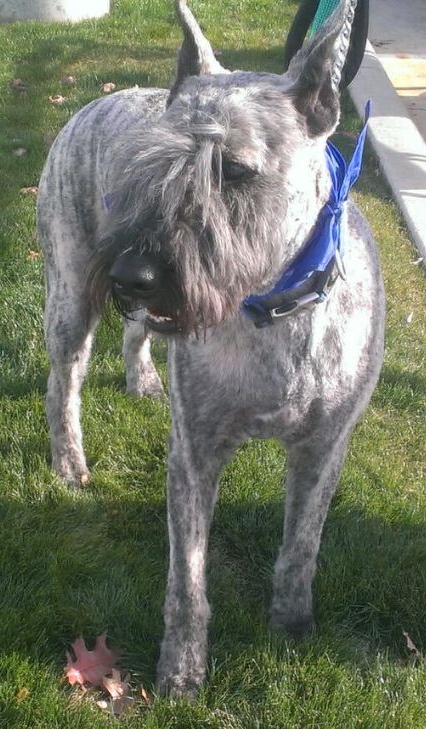 Dallas-Ft. Worth, TX
Male
3 years
Yes
Yes
ADOPTION PENDING. Meet Teddy! He is a 3 year old, pure bred, Bouvier boy, neutered, up to date on shots and heartworm negative. Teddy knows basic commands, and even attempts a rollover, if asked. Teddy was surrendered by his owner to ABRL due to hard times. For the first two years of his life, he lived as a beloved pooch, in a very sheltered home, being the shadow and best friend of the little kids in the house. When the family was forced to move into a much smaller settings, he and another much older dog started to live outside. Thus his neglected coat that will be shaved off... new beginnings, new hair. It will grow back and we are sure that in no time, Teddy will be a magnificent, shaggy Bouv again. This past year has been hard on his sensitive soul, but he is recovering by leaps and bounds. Teddy was not exposed very much to other folks or animals outside his home, so at first he was a bit anxious about at all the changes and new things. He still likes to meet new people on his terms. But each time it took him only hours to conquer each and every new encounter and adventure. With the right person, Teddy will go from "Aloof" to "Love Bug" in just a short time, we think, and then be prepared to have a shadow following you in your everyday activities. He does get along with other friendly dogs, male or female, he is even ok with most cats. Teddy does adore children, and is housebroken and crate trained, and rides well in a car. Since he has been through so much, we would prefer a home within driving distance of TX or an adopter willing to drive here to meet, greet and travel home with him by car. Since he grew up underfoot home schooled children, and his devotion to little ones, Teddy would probably be most happy with "dog respectful" two legged little people and adults that will nurture and teach Teddy that the world is not a nut shell, and keep exposing him to new things and places, thus building his confidence more and more. His foster dad cannot say enough good things about Teddy, and we are very hopeful for this sweet boy! Teddy is currently fostered in the Dallas-Ft. Worth, TX area. To be considered as an adopter, please fill out an application online. For information contact Dagi.

Trace (adoption pending)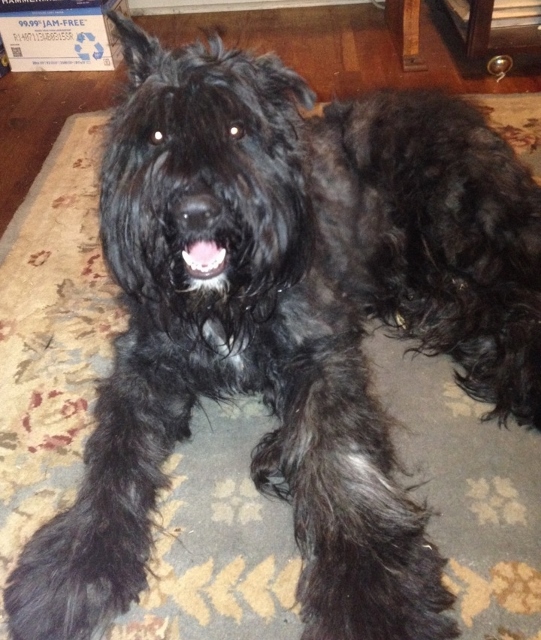 Amarillo, TX
Male
18 months
Yes
Yes
ADOPTION PENDING. Hello World! This is me, Trace, and I am an 18 month old Bouvier boy full of puppy madness. My mom calls it "piss and vinegar" and I am SO full of myself! But, I am a happy boy and I love meeting and greeting, and I am sorry to get SO excited sometimes, but in my first home, nobody ever taught me about manners and such, so I thought it was ok to lead myself. Well, now that I am with my foster mom, I am learning all that important stuff and I really like to learn new things. My foster mom says I am a "Gold Star" student. I am SO willing to learn how to be the best dog ever! If you are a Bouv experienced human, and continue to take me to school, like obedience and agility, and take me for long hikes, runs, and love me, I promise to love you right back and become your best friend ever! I love humans, but I am a bit too strong and too excited for "little folks" so I will be best in a home without kiddos. And then you teach me, I will learn, I promise! Did I say I ride well in a car, love walks, and cuddling, too?! And that I am up to date on shots, HW negative, and neutered? Sincerely yours, Trace. Trace is currently fostered in the Amarillo, TX area. To be considered as an adopter, please fill out an application online. For information contact Dagi.