Bouviers Available for Adoption
Thank you for your interest in adopting a Bouvier des Flandres. The Bouviers we offer for adoption have been screened by those knowledgeable in the breed and we feel they are very desirable dogs. We hope to provide them with excellent homes. For each Bouvier adopted, we ask payment for actual expenses incurred or a minimum of $300.00. To be considered as an adopter, please fill out an application.

Chloe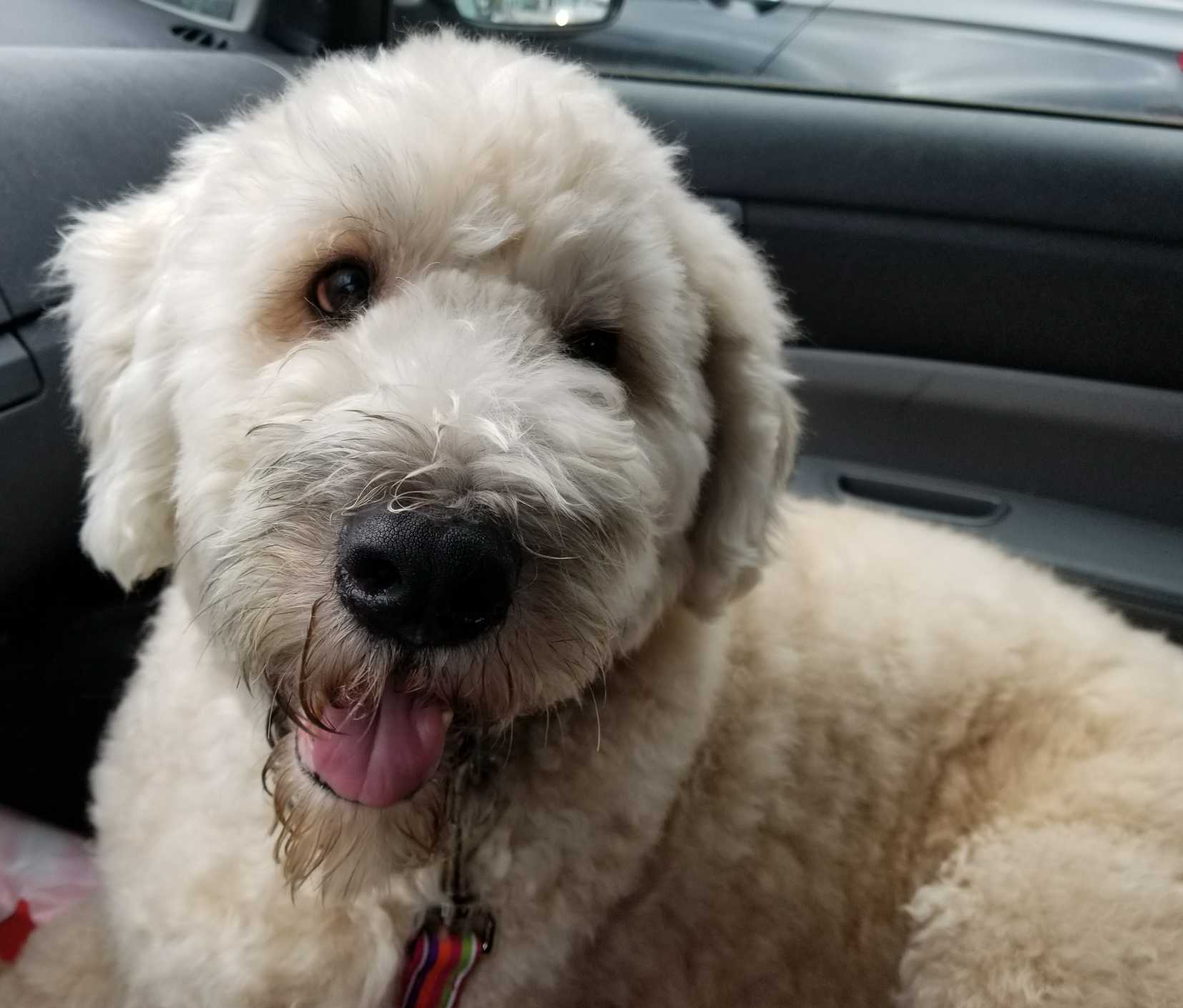 Gainesville, FL
Female
8 years
No
Yes
Chloe is a lovely and calm 8.5-year-old fawn Bouvier with a docked tail and natural ears. She is a stunning platinum blonde in the style of bombshells of yesterday with the sweetest disposition possible. Chloe gets along very well with other dogs and does not even mind sharing her bed, but she is stressed when other dogs want to engage in physical play, and if they continue she will hide from them. Likewise, small children make her uneasy. She is so kind-hearted she has even allowed her tiny 10 lb. foster sister to grab a treat from between her paws without any reaction except disappointment. But for that outstanding behavior, she was rewarded with two treats. Chloe is a low activity Bouv, who loves walks but does not necessarily do a lot of running around the yard. She is a quiet dog who can bark, but rarely does. She loves to be close to her human, being rubbed, scratched, and laying with her head in your lap or on your feet. Due to seizures, Chloe requires medication twice a day. Since her medication was adjusted a few months ago, she has not experienced a single seizure. She has met a cat and did not react, but no cats are living in the home. Chloe is spayed and has recently had a complete evaluation and requisite care at the University of Florida College of Veterinary Medicine. Her maintenance medications will cost about $75 per month plus the cost of flea and heart-worm medications. If interested in adopting Chloe, please first complete an online application before contacting Marcia with your questions.

Cosette (adoption pending)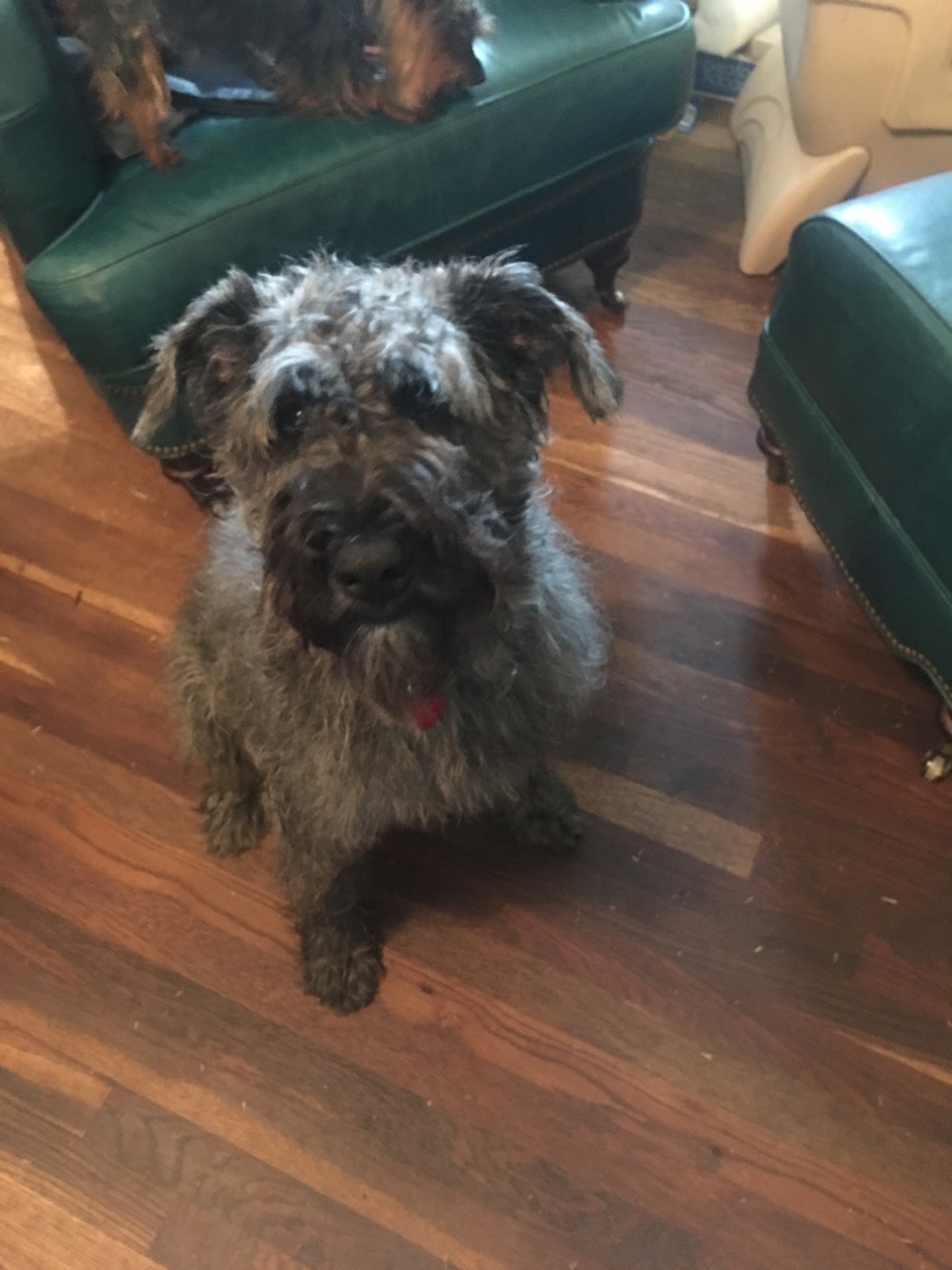 Amarillo, TX
Female
3.5 years
No
Yes
ADOPTION PENDING. Update April: Cosette has made great strides since October. Being a Mill dog she had numerous hurdles to cross, with Housebreaking being at the top of the list. There was also some general suspicion of new people. Regarding the housebreaking the majority of the time she now lets you know when to let her out. If there are lots of distractions she will need to be led to the door on a lead to go outside. She became comfortable and secure in our home. As her confidence has grown she has been able share her attention with other dogs in the family. She loves being patted, brushed, and in general, touched. It takes her a bit to warm up to new people, especially males, but once she realizes she won't be hurt she is fine. Cozette loves walks, chasing squirrels, killing her squeaker toys, going for rides in the car and just being with "her people.". Despite Cosette's initial incarceration at a puppy mill she has evolved into a precious, affectionate, impish little girl. I call her my "Velcro girl" because she follows me everywhere and lays at my feet with her head or paw on my foot. I am amazed at how social she is for being a mill puppy! Her smoking grey coat with her black masque gives her a distinctive presence. She loves having her ears rubbed and her back scratched. She gets along well with the other dogs in the house, dying to play with them, but they are just too old to find her antics amusing! Cosette should go to a home without active children; she also seems to prefer women. She was never housebroken but we are working on that! Miss Cosette does not like to go out into the backyard unless I have her on lead. When I remove the lead she will take care of business and will race and bounce Bouvier style around the yard. I have her on a timed regimen to go because at this point she has not yet learned to let me know. However, she has not soiled her crate when I have left her there overnight, nor when I have left the house to run errands during the day. She has done some submissive wetting when I have put on her lead to take out to the back yard. She can also be a little unsure crossing the tile floor in my kitchen, which is between the living room and the back door. She possesses a strong prey drive directed at squirrels and cats. Loud noises and slamming doors frighten her. Cosette is a sweet girl, who makes every effort to please despite what she has had to endure in her young life. Cosette has her natural ears and a docked tail. She has been estimated to be 3 1/2 years old, but seems younger. She is just under standard in height and weighs less than 60lbs. She has a voracious appetite and has been making up for lost time! She is up to date on shots, spayed and Heartworm negative. She is being fostered in Amarillo,TX. To be considered as an adopter, please fill out an application online. For more information, contact Dagi.