Bouviers Available for Adoption
Thank you for your interest in adopting a Bouvier des Flandres. The Bouviers we offer for adoption have been screened by those knowledgeable in the breed and we feel they are very desirable dogs. We hope to provide them with excellent homes. For each Bouvier adopted, we ask payment for actual expenses incurred or a minimum of $300.00. To be considered as an adopter, please fill out an application.

Pepper
PHOTO COMING. Pepper is a 10 year old retired show dog whose owner recently passed away. A handsome black brindle Dutch import, Pepper lives in Kentucky, has been neutered, and is up to date on shots and vet care. Although used to being in a home, traveling and kenneled throughout his life, he currently finds himself in a kennel full-time. Pepper has not lived in a home with cats and young children. He is willing to share his home and people with another female dog. Pepper would love the chance to live out his life as someone's beloved silver bearded companion. Complete an application online prior to contacting Marcia.

Buddy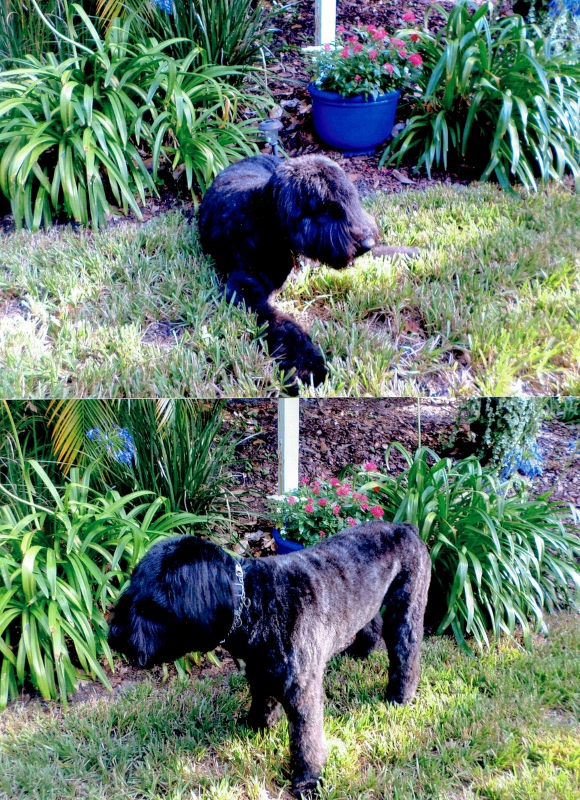 Buddy is a two year old neutered male Bouvier. He is docked with natural ears and a beautiful gray brindle coat. Buddy is misbehaving in his current home in Florida as he is going through the "terrible teens" that anyone who has owned a young male Bouv will recognize. Buddy is well socialized with people and other dogs. He has completed obedience classes and attends doggy daycare. Currently, he gets plenty of exercise by walking a mile 3 times a day. Buddy's trouble is that he is challenging the home pack structure, trying to become top dog. Sound familiar? Buddy's new owners must be previous Bouvier owners that agree to continue Buddy's obedience career and put an AKC CGC title on him. Preference will be given to a home that has someone home all day. Buddy would do well with one other dog in the home. Complete an application online prior to contacting Marcia.

Basil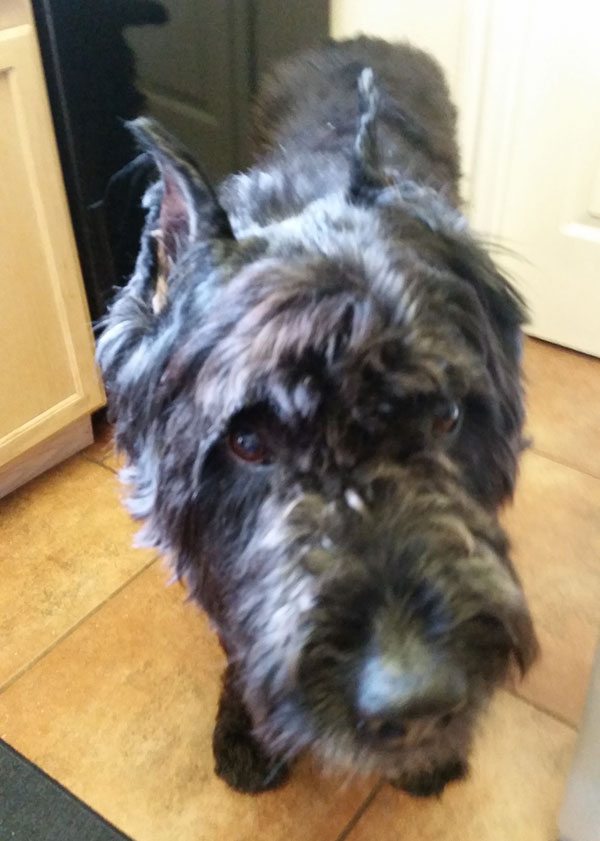 Basil is a almost 10 year old purebred Bouvier male, docked, cropped, heart worm negative and utd on shots. He loves car rides, his walks, and just hanging out near his human. Knows basic commands and walks very well on a leash. Currently, he goes to work everyday with his foster mom, and has excellent office manners. But sweet Basil is very afraid of thunderstorms, and has some separation issues and will do best when he is allowed to be by your side during the storm. He would be the perfect companion for a retired person, or with someone that works from home. If there are no storms on the horizon, he does very well being left alone at home. Basil loves being with people, but is aloof with strangers, but he warms up quickly, and once he has met everyone, he will find himself a corner and take a snooze. Not good with cats or small dogs or overactive puppies,but he would probably get along with an older, laid back female. He is currently being fostered in San Antonio TX. To be considered as an adopter, please fill out an application online. For more information, contact Dagi.

Acadia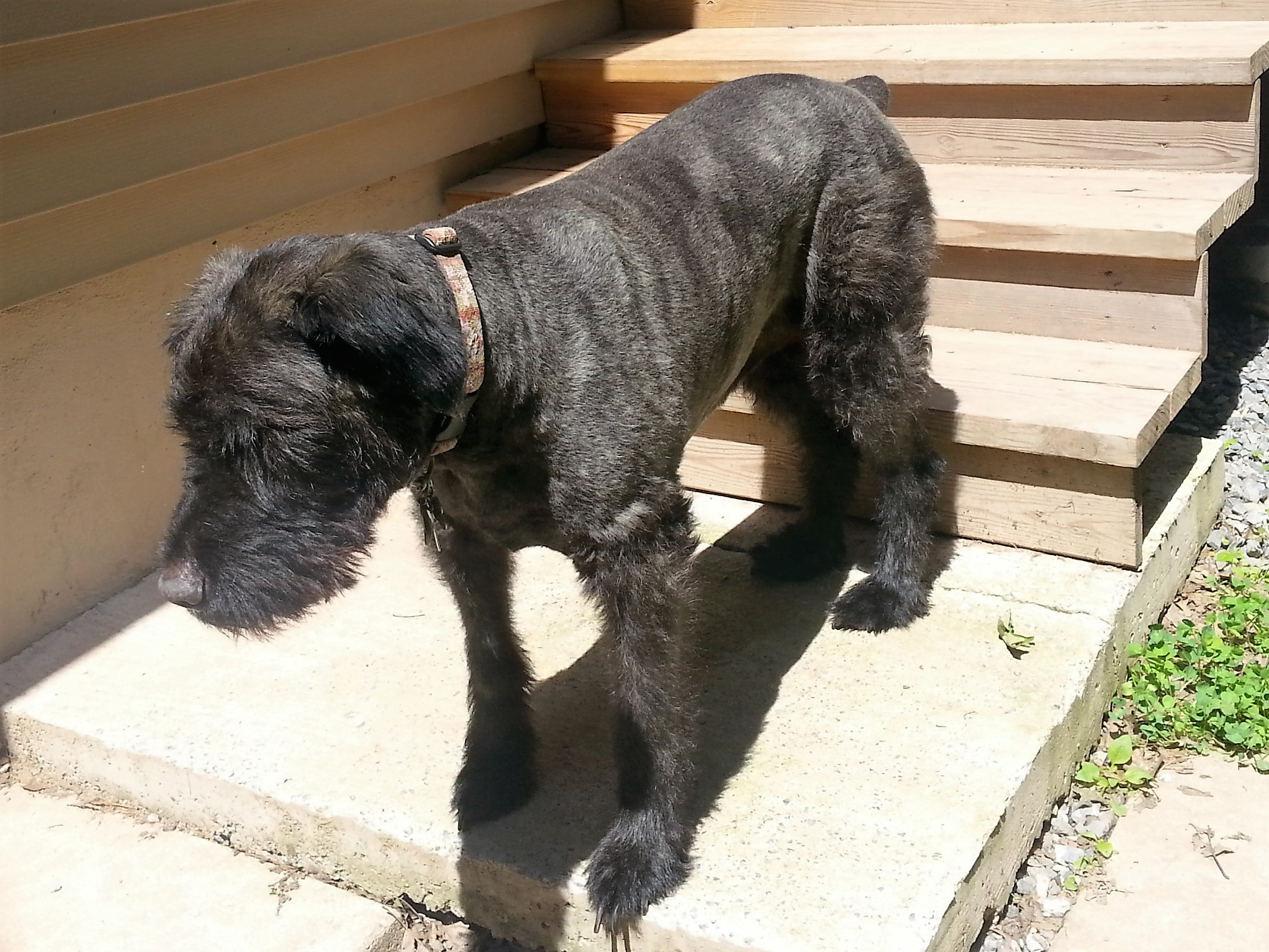 Acadia is almost six years old, she will celebrate her birthday in mid-September. She is AKC registered and spayed. Her vaccinations are up to date. She is approximately seventy pounds, natural ears, docked tail, brindle coat (she prefers her coat short). Acadia is eager to learn and does a few tricks. She has a very bubbly personality and can be very loyal. She likes to share a bed with her people and lounge on the sofa. She likes to toss stuffing-less toys around and gnaw on other toys. She is crate trained and house broken. She is used to wearing a collar, but does not walk well on a leash. She does love to ride in the car. She also enjoys being outside in a fenced yard where she can explore as she pleases. Acadia has some challenges that she will need help with on a daily basis. In Spring 2015, Acadia was diagnosed with Lyme Disease. She underwent a month round of antibiotics. There did not seem to be any other health issues along with that. During the summer of 2015 Acadia developed severe quick onset glaucoma in one eye, which caused blindness. She saw a veterinarian ophthalmologist who recommended that her eye be removed for health and comfort reasons. She had her eye removed and a biopsy performed. The results did not indicate that it was a genetic issue; it is possible that the glaucoma is the result of the Lyme Disease. In Winter 2015, Acadia developed severe glaucoma in her second eye, causing her to lose all sight. Her second eye was removed in March 2016. She has adapted well to her surroundings. She is able to walk around the house and fenced yard without bumping into many objects. She seems as if the blindness does not affect her in many ways, but she has trouble in others. Acadia has difficulty with strangers and needs time to become used to new people. She can be stubborn when she wants to be, but can be coaxed with treats. She would be best suited for home without other pets or children. Her blindness causes her to become easily agitated when there is a lot of commotion, particularly around young children. She prefers a calm relaxed environment to ease her anxiety. To be considered as an adopter, please fill out an application online. For more information, contact Lena.